Experimental music is a genre that hasn't yet quite found its place in Hanoi. But thanks to Đom Đóm and other artists that first brought these eclectic sounds to the city, a scene is slowly forming. Nguyễn Xuân Sơn and his student Lương Huệ Trinh talk about this fringe movement they are an integral part of.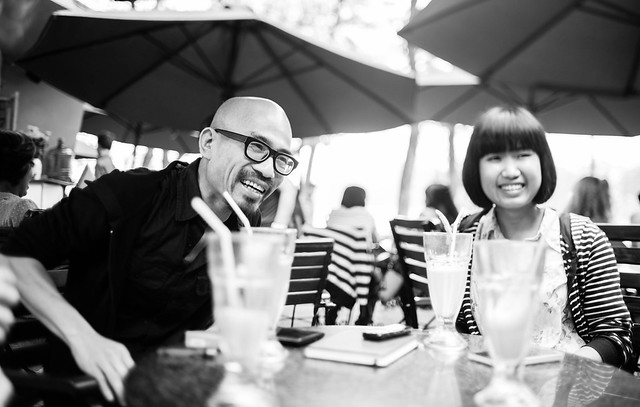 ●  Edited by Rose Arnold  ●  Photos by Thủy Tiên Nguyễn
BECOMING AN EXPERIMENTAL ARTIST AND FINDING THE TRUE SOUND
Lương Huệ Trinh: In music school I didn't think about contemporary music. It wasn't until my final year when I attended a talk with Nhật Tân and got to know other artists that I heard this type of music that was like nothing I'd known before. I wouldn't even have been able to imagine it existing! All my friends said it was terrible. That it couldn't be called music.
At school, we learnt about beat, rhythm and harmony, everything is smooth and easy to listen to. That's why when you come across something that is so new, it doesn't sound like music. But I tried to take it slowly, to learn to listen to it and not to reject it out of hand. Tân gave me some software to generate sounds which I taught myself to use. I didn't really know anything so I just made sounds that felt good to me.
That is when I asked you if I could study with you. But it took me half a year to convince you, because you are so difficult and grumpy! And only after I had followed you around for ages and sent you every composition I made for feedback, you finally agreed to teach me.
Through your teaching I started to gain knowledge about contemporary music, learnt to have aesthetic values and find my own sound.
Whatever you do, it has to be real! Only real things can touch people. If you fake it, it fades too easily.

Nguyễn Xuân Sơn: Everyone has a very individual way of thinking. The only thing I can do is to teach about the different concepts and aesthetic values, direct you to the relevant literature, visuals, theatre. All things that experimental musicians need in order to find their connections. You should even have understanding of things such as social issues and economics. For me, art requires a lot of knowledge. Only then will you be able to make it deep. Otherwise it feels detached from everything, and you end up making something really shallow.
What I tell you a lot is this: Whatever you do, it has to be real! Only real things can touch people. If you fake it, it fades too easily. Sounds are like that. At times the sounds you made seemed a little one dimensional. Why did you make them? What was the reason? Yes, okay, it sounds nice but it's merely decoration. The stories are important. How you made it, how you came up with such things. You've got to be able to explain it.
Lương Huệ Trinh: (smiles) Ah, meaning that each sound that you use has to carry a meaning. Like why it appeared, why it is the length it is? There is always a reason why you put it there, it somehow creates some particular feeling or connections. That is what you told me every day.
Nguyễn Xuân Sơ: I tell you that everything has to be sincere. Like the clothes you wear. I don't care about how clothes look, I care about what is inside. These days people care too much about appearance, while on the inside maybe they are a mess. Every detail in music is like that.
There were times when you sent me sounds which were nice but you didn't have enough control over them. You received compliments from others but I didn't consider them to be any good. There are some that you preformed at music festivals. And even though other people liked them, I told you to discard them. Because they were not real, they were fake.
This is what I always say. Someone who is into appearances would never want to work with me because…
Lương Huệ Trinh: … because you always criticise things. You are extremely difficult…
Nguyễn Xuân Sơ: …I never accept things that are created in a rush. But I like you. During the years that you were getting good feedback for your work, it was only me saying that it wasn't good enough. And yet you listened to me and carried on sending me things. I saw that this was a person who truly wanted to learn. Now you no longer make the same mistakes, your pieces are much better.
SOUNDS
Nguyễn Xuân Sơ: I don't consider one type of sound to be superior to another type. I treat sounds as equals. The only thing that changes is my intention and the sound I need for that.
Lương Huệ Trinh: I feel the same, about sounds, that all types are equally valid. I normally take sample sounds that I already have on my computer or elsewhere and experiment with them.
Nguyễn Xuân Sơ: When I work, I'll usually have some kind of visual story in my head, because I'm really into visual art, and then I look for the sounds which that story needs. Those sounds can be from everyday life or they can be created by musical instruments. As my background is in traditional music, I use traditional materials a lot.
Lương Huệ Trinh: You helped me realise the value of traditional music. Actually many people in my family listen to traditional music, but I started out with jazz. I didn't understand the value of traditional music, I had to learn how to listen to it.
Now I do use materials from Vietnamese traditional music in my work. I also create sounds from electronic music, using frequency and software tools, to mix and to create a good connection within every piece. It all depends on the particular piece of music.
EXPERIMENTAL MUSIC IN VIETNAM
Nguyễn Xuân Sơ: There still aren't many people doing this kind of music in Hanoi or in Vietnam. Just a few experimental musicians like Nhật Tân, Kim Ngọc and me, and a few others who are doing experimental visual art like Nguyễn Văn Cường and Nguyễn Mạnh Hùng. And each of those people started out in a different way.
For example Kim Ngọc and Nhật Tân started getting to know experimental music around about 1998 to 2000, from the musician Tôn Thất Tiết, who lives in France. They then moved to Germany to learn more.
Myself, I studied traditional music at school, rather than contemporary, there aren't any music schools here that teach experimental music. I started making contemporary music for contemporary dance ̶ there was a group of dancers from France, the writer and script director was Vietnamese-French, who were looking for a musician to compose for them.
This type of music has no strong base in Vietnam. It started with a few individuals and it is still only those names doing it today. The two people that are working and achieving the most are Kim Ngọc and Nhật Tân. They have two different ways of working. Nhật Tân is very dynamic and he found a lot of opportunities, but those are very much for himself as an individual. I support Kim Ngọc's work because she is creating educational projects that are very, very important for society, as well as for contemporary music. Her work allows us to sit down and talk about experimental music in Vietnam, not just the music of one particular artist.
Right here and now in Vietnam, there is no educational system to support it. And when you don't have this kind of support, it means that there is no next generation of contemporary music artists. We're not even talking about developing audiences yet, this is just about training experimental musicians. In all these years there are hardly any new names. Recently we have you [Trinh], but still, very few people. And 'Đom Đóm' where more than ten students are studying experimental music.
It's a totally new world, new music. And always, the first time you listen to it you'll find it almost annoying. It's too difficult to listen to and you don't feel it.
Lương Huệ Trinh: Those students are like me when I first listened to experimental music. It's a totally new world, new music. And always, the first time you listen to it you'll find it almost annoying. It's too difficult to listen to and you don't feel it. But Ngọc's 'Đom Đóm' is really good, it starts with very basic steps and definitions.
Of course the course is not very long so you can't get in-depth knowledge but you still get basic understanding. About what experimental music is, what the different styles within the genre are, and what the techniques are, how to play and how to listen to different styles.
Nguyễn Xuân Sơ: I still see though that these young people when they start are just looking for qualifications and certificates. That class used to be certificated by a Swedish organisation. Many people liked that, but even now that there are no more certificates for attending class, they miss the sounds and keep coming back. That is a very good sign for the future.
Lương Huệ Trinh: Actually this music is very difficult, not only to study but also to create it yourself and to make it financially viable. Even among people who study experimental music, very few choose to actually go for it.
Contemporary music here in Vietnam is not so new anymore. People know about it already, but the ones who want to compose and stick with it are so rare. Once you decide to do it still takes you a long time, not just a couple of years. But I think that since the creation of Đom Đóm we have a lot more opportunity to understand it and be inspired by it. Our motivation and passion for experimental music will become stronger and stronger and hopefully more people will pursue it.
●●
The interview was carried out in Vietnamese and translated into English. It has been edited and condensed.